Back in September, a Danish newspaper commissioned 12 drawings of the Muslim prophet Muhammad from their cartoonists. The
New York Times
reported that "[t]he Danish paper said it had asked cartoonists to draw the pictures because the media were practicing self-censorship when it came to Muslim issues." The
Washington Post
reported that the paper printed them "to directly challenge Islam's ban on depicting the prophet."
I'm no media expert, but this seems like a pretty stupid idea.
To make things even stupider, the pictures were "recently reprinted in European media and elsewhere in what the newspapers say is a statement of free speech."
"The drawings have touched a raw nerve in part because Islamic law is interpreted to forbid any depictions of the Prophet Muhammad for fear they could lead to idolatry."
Luckily, it didn't lead to a whole lot of idol-worship, but it
did
lead to worldwide protests (mostly peaceful), a huge boycott of Danish goods, the torching of a Danish embassy, and a bunch of people getting killed in Afghanistan.
""Long live Islam! We are Muslims! We don't let anyone insult our prophet!" chanted the demonstrators, many of whom appeared to be teenagers. They also chanted, ''Down with America!'' and slogans against the Afghan and U.S. presidents," the
Times
article reported.
Some protesters, in an effort to prove stereotypes about the extremism of Muslims, showed their disapproval in other ways: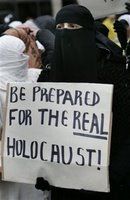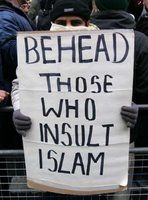 I certainly don't defend the actions of the violent protesters--I think it's pretty ridiculous--but how could anyone expect anything different? Radical Muslims are a group of people who are
characterized
by their fanaticism and violence in the name of their religion. If you're the editor of
Jyllands-Posten
, and you want to make a statement--do it through the editorial pages, not through the publication of images that only serve to instigate division and violence.