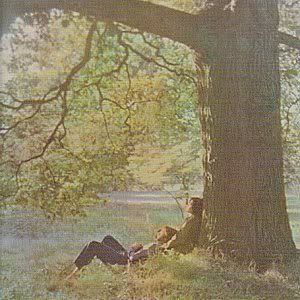 John has always been my dad's favorite, and I think that's what led me to be a strict John man myself. Through my experience learning about and listening to The Beatles, I've been in a number of debates with Paul-, George-, and even Ringo-lovers, but I always secretly felt those people were either stupid or just didn't know what they were talking about. Sure, Paul may be cuter, but John is an
artist
.
I was in Waterloo Records with Lan a few years ago when Paul McCartney's "Silly Love Songs" came on.
"When I hear this," Lan said, "it makes me wonder how anyone could ever wonder who the real genius in The Beatles was. I mean, if you just listen to everything each of them did after the band broke up, it's pretty clear that Paul obviously has a gift for melody, but is just kind of a sappy romantic at heart, and John is just a genius."
I recently read John's 1971
Rolling Stone
interview with Jann Werner, and found what I think is an interesting coincidence:
John:I learned lots from Paul and George, in many ways, but they learned a damned sight lot from me--they learned a fucking lot from me. It's like George Martin, or anybody: Just come back in twenty years' time and see what we're doing, and see who's doing what--don't put me--don't mark my papers like I'm top of the math class or did I come in Number One in English Language, because I never did. Just assess me on what I am and what comes out of me mouth, and what me work is. . . .
Paul's career is obviously the more successful--he's the wealthiest man in England--but there's no doubt to me that
Plastic Ono Band
,
Imagine
, and to a lesser extent
Mind Games
, stand out over anything Paul did alone during or after The Beatles. Here's to my dad, for raising me right.