Gnarly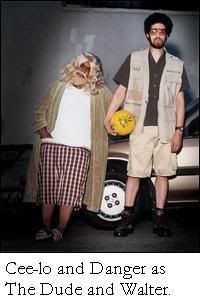 Gnarls Barkley came out on stage tonight in Austin, Texas, wearing karate gis and movie-star sunglasses--Danger Mouse and Cee-Lo wearing red, the supporting members wearing white. It's rumored that they all wear different costumes every night. (They also insist on dressing up as cartoon and movie characters for every photo shoot--the
Allmusic site
shows them as characters from
Napoleon Dynamite
and
A Clockwork Orange
, among others.) Cee-Lo, if you've never seen him, is a mountain of a man. He's not too tall, but he's got arms like fire hydrants, a belly like Santa, and big white teeth that, despite all his other characteristics, are the first thing I noticed about him. He's a hell of a performer. Danger was subdued, sticking behind the keyboard and never taking off his shades.
There's an old-fashioned entertainment quality in watching Gnarls Barkley play. Maybe it's the full band, the playful backup singers, or the fact that Cee-Lo puts a face on the duo that shows how much they truly love music. "Crazy" is a club hit across the world, but seeing them play live brought an energy to their music that set everyone at the show dancing.
"We're not just musicians," Cee-Lo said at one point. "We're music lovers, too." The band proved it by playing three different cover songs. One, of course, was the Violent Femmes' "Gone Daddy Gone," which was a highlight of the show. ("This song goes to 11," Cee-Lo said in a
Spinal Tap
reference.) They also played "
There's an End
" by the Greenhornes, and "Who Scared You," a semi-obscure Doors song from the album
Weird Scenes Inside the Gold Mine
.
The show attracted a couple of celebrities, too. Jake Gyllenhaal and Lance Armstrong were seen watching the show from the stairs at Stubb's. (What would those two guys talk about, anyway? "Gee, I sure do love riding my bike." "That's nice. I was in
Donnie Darko
." "I was hooking up with Sheryl Crow for a while." "She has small boobs." "I know.")
A lot of great bands are playing in Austin this weekend, but there may be very few with the wit, energy, and craftsmanship of Gnarls Barkley. They play at the Austin City Limits Music Festival this Saturday at 4:30 p.m. Tickets are sold out, but they're reasonably priced on
Craigslist
.