My MySpace account got phished this weekend. I was checking my cousin's random bulletin board messages, and one of them turned out to be a virus that hacked my account. (The message: "Check out Jessica Simpson's boobs bouncing lol." In my defense, I wasn't really that interested in JS's boobs bouncing, but in why my 14-year-old female cousin was making posts about it.) The virus logged me out and started posting similar posts.
I laughed today when I checked out my friends list and noticed this: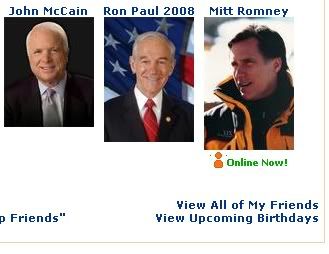 Mitt Romney was online! Imagining him checking his comments (actual comment: "Hello,omg i put you as my first friend! thanks for the add! also, is your name really mit or mitchel?") was amusing, but I became concerned when I realized that his profile could suffer the same fate mine did. Mitt, make sure you change your password frequently!