[From Ben]
Sleevage
does reviews of album covers. In response, and in celebration of the holidays, here's one you probably won't find anywhere else: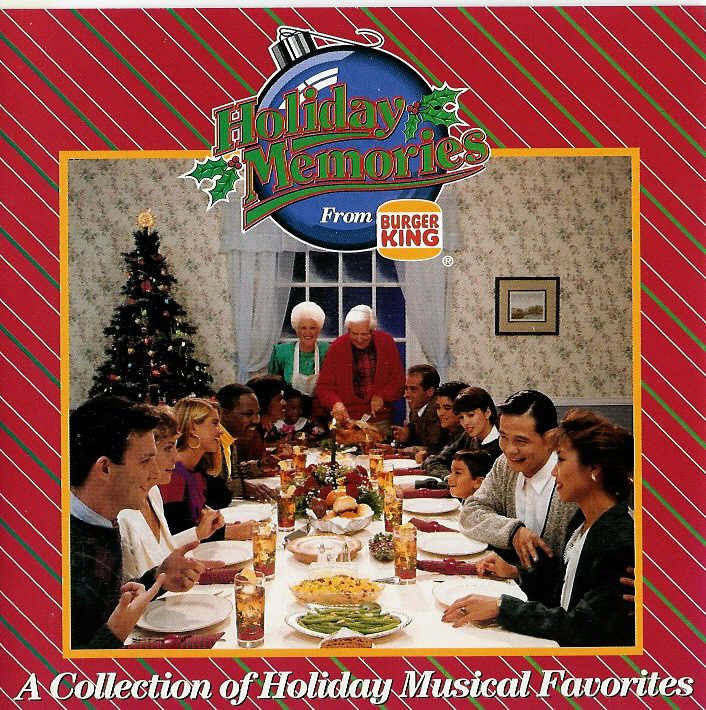 (Click for larger version.)
It's the
Holiday Memories from Burger King
album from 1991! And it's got all your favorite Christmas tunes:
- "The Most Wonderful Time of the Year," Andy Williams
- "The Little Drummer Boy," Air Supply
- "Silent Night, Holy Night" BeBe & CeCe Winans
These are available for upload if anyone is interested.
Interesting things to note:
- Whites, blacks, Hispanics, and Asians are all represented here. What are they all doing having Christmas dinner together? Burger King seems to have made a solid attempt at representing all racial groups, but there are still more white people than anyone else.
- Where are the Pacific Islanders?
- The kid on the right side: Is he Hispanic or Asian? One of the Hispanic women is looking at him lovingly, and the Asians are ignoring him, so I assume he's Hispanic.
- That brings me to another point. This picture looks totally doctored--or as doctored as you can get pre-Photoshop. I have a strong suspicion that these people were all photographed separately and then added in to create the appearance of interracial holiday cheer.
- That's one big-ass dining room.
Thoughts?